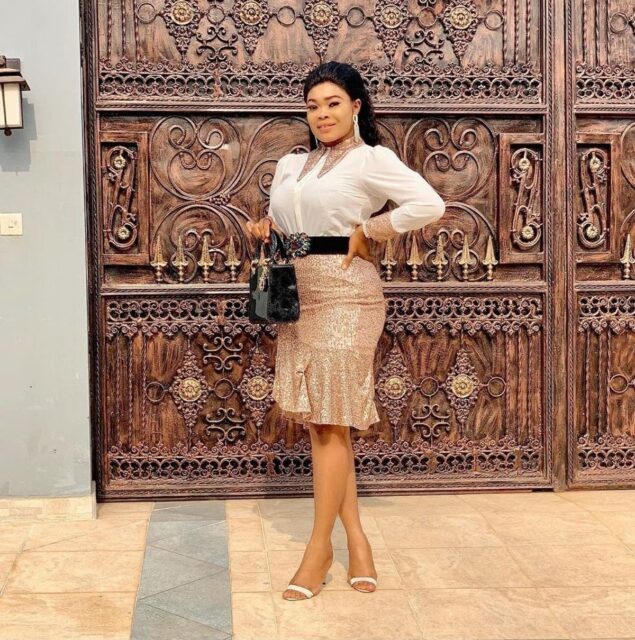 Actress, Ruby Ojiakor, has claimed that some actresses go as far as using charms and other diabolical means to gain fame and attention in Nollywood.
She also stated that some movies were substandard because producers and directors refused to pay good fees to talented actors.
Ojiakor told Saturday Beats, "One of the challenges in Nollywood is the (poor) fees paid to actors, and that is partly because the movie industry is crowded. When one states one's price, they tend to offer a lesser amount. If one does not accept, some filmmakers would then look for someone else, even though the other actor cannot give them the quality the former one possesses.That is why some movies are substandard. I don't charge very high fees. I believe my fees are affordable, and some producers know my worth. However, there is a high influx of girls into the industry and some of them are ready to even pay the producers to get roles. The result is that the inexperienced actors mess up the movie productions. I am grateful for the producers that know my worth and pay me well.
"Also some (actresses) use voodoo and go diabolical just to get attention from movie producers. This then makes them sought after, compared to other actors that are lobbying and struggling to get roles. However, with God on my side, things have been fine. I believe that juju (charms) work very fast and the people who use it in the industry get rapid fame. I think that is also a challenge in Nollywood."
Ruby also noted that she had turned down numerous sexual advances in the course of her career. She said, "Sexual harassment is everywhere. I think every actress has experienced it at one point or the other in their careers. The people (who engage in it) do not care whether one is ugly or beautiful. All they want is to get laid. But, the question is, does one want to toe that path? Unfortunately, that is one of the things that slowed down my career. I refused to give in to the numerous sexual advances. I am not where I should be. These guys would deny one of so many jobs that should have aided one's career growth. However, I am not bothered. If I don't get a job, they can give it to someone else.
"How many men does one have to sleep with to always get roles? Sadly, those guys are 'kiss and tell' and word would have gone round in their caucus that one offers one's body for movie roles. Automatically, everyone would want to take advantage of one's loose morals. However, some directors and movie producers are professional and would give one one's due respect and also appreciate one's talent. I think the problem is that some up-and-coming actresses are too desperate. They want to 'trend' and reign almost immediately they start their careers. And, some moviemakers would promise them heaven and earth just to get between their legs."