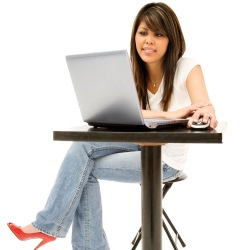 Business Overview:
If you have a passion for fashion and are looking for a way to turn your love of clothing into a booming business, consider a t-shirt printing business. Maybe you're a fashionista with a great idea or a stylish office worker who wants to work from home. Even if you've never considered fashion as a home business, you should check into how to start a t-shirt business. Until recently, this 20 billion dollar a year industry has only been accessible to those with a large amount of start-up capital and connections to major fashion houses.
However, thanks to technology and support for small business owners, it is now possible to break into this lucrative business with little more than an original idea. You don't need any experience or a lot of money to get your foot in the door of a custom t-shirt business. If you don't know how to start a t-shirt company, you'll be pleased to know it's a very simple process. All you need is a good idea, a few supplies and some knowledge about the fashion industry to make this business idea work.
Some small business owners have been successful in the clothing business with nothing more than a logo on a t-shirt. Creating your designs on a computer makes the process easy because you can change it and perfect it, all at no additional cost by using designing software. This is a wonderful online business idea because you can sell your shirts on the Internet to anyone around the world. You too could make it big in the fashion industry with your very own t-shirt business and see your designs on people everywhere.
A typical day for a t-shirt printing business owner will begin with a check of any new orders. If you sell your products in stores, you will need to check inventory numbers with storeowners or managers. If you sell over the Internet, check your orders and fill as many as you can with your current stock. You'll need to spend some time making t-shirts and eventually you can start working on new designs. If you have a staff of workers, make sure they know your production goals and be sure everyone is on task.
About Your Customers:
You customers will be t-shirt wearers. They could be shoppers in local clothing stores or online shoppers looking for a terrific new t-shirt design.
What You Need to Start:
T-shirts
Computer
Finance software
Design software
Printing equipment
Trademarks/copyrights
The Good:
This is a great part-time business that can ramp up to full-time when you're ready.
Start up costs are low.
T-shirts can sell for much more than it costs to make them; return on investment is high.
T-shirts will sell in any economic environment.
The Bad:
Coming up with a unique and marketable idea can take some time.
As trends emerge, your designs will need to change with the times.
A day in the life of a t-shirt printing business owner: