While a rewarding career should not be solely measured by its starting salary, a major motivation for graduating from college is the knowledge you can command a sizeable income.
Some higher educational establishments rank significantly lower in expected salaries than others.
Analysis by economic modelers Emsi has detailed to Newsweek, the U.S. colleges at the poor-performing end of the salary spectrum.
Dr. Stuart Muller, director of custom consulting for higher education at Emsi Burning Glass, explained his team evaluated the overall quality of outcomes for each institution by "quantifying average wages across all alumni in our professional profiles data."
The national median wage by occupation was used, while only private colleges exceeding 1,000 profiles in Emsi's database were included.
"By using the national average OEWS [Occupational Employment & Wages Statistics] wage we are attempting to quantify outcomes based on the quality of the professional role that completers attain rather than the particulars of any salary they may earn—i.e. based on the kind of job obtained, not on the financial specifics of their hire," Dr. Muller told Newsweek via email.
"This approach assumes the average national occupational wages reflect the relative quality of occupations and the jobs within them."
Such assumptions have the benefit of allowing the researchers to assess institutional outcomes for an idealized sense where gender, race, ethnicity and geography do not affect a career's quality and salary.
However, this comes with the caveat that while this method does control for how these factors may affect an individual salary, it cannot control for how demographics have affected which programs individuals enrol in and therefore which occupations they are likely to find employment.
Here are the private colleges whose graduates go on earn the lowest average median wage. Or take a look at those where students go on to earn the most.
25. Colorado Christian University ($80,299)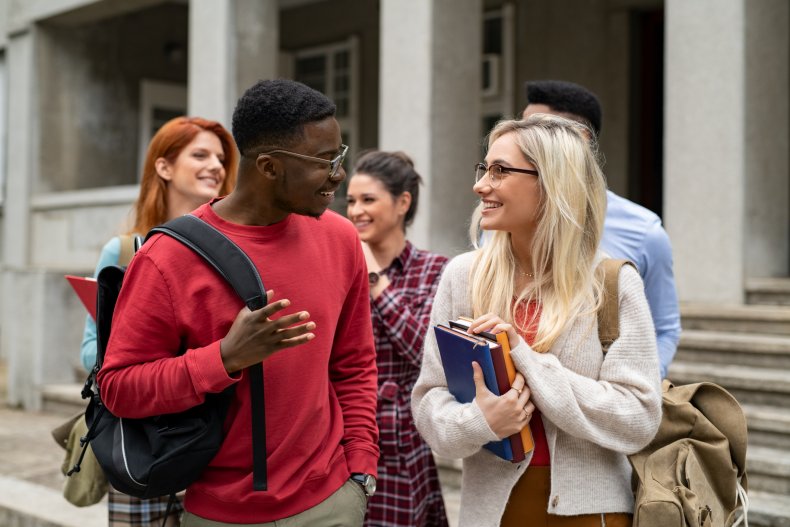 Colorado Christian University is a small private college founded in 1914.
Popular majors at Colorado Christian, which has a 100 percent acceptance rate, include business, psychology and biblical studies.
24. American InterContinental University ($79,920)
American InterContinental is a mid-size private university based in Chandler, Arizona.
Popular majors include business, criminal justice and safety studies, and healthcare management.
Columbia Southern University is a private online university in Orange Beach, Alabama founded in 1993.
Popular majors at this mid-size college include business, occupational safety and health technician, and fire science and fire fighting.
22. University of Indianapolis ($79,572)
Founded in 1902, the University of Indianapolis is a private United Methodist Church-affiliated college.
Some of the most programs at the college include occupational therapy, physical therapy, nursing, business, education and communication.
Read more
American Public University SystemAmerican Public University System is a private, online university system made up of the American Military University and American Public University.
Popular majors at the college include business, liberal arts and humanities, and homeland security and disaster management.
19. Lindenwood University ($78,614)
Founded in 1827, Lindenwood University is a private liberal arts university in Saint Charles, Missouri.
Lindenwood alumni and progressed to prominent careers in government, business, science, medicine, education, sports and entertainment.
18. Azusa Pacific University ($77,817)
Azusa Pacific University is a private, evangelical Christian college based in California.
Popular majors at the religious college include kinesiology, business, theater and chemistry.
Mercy College is a private, non-sectarian, non-profit, coeducational research university in New York.
Mercy College has five schools: Business, Education, Health & Natural Sciences, Liberal Arts and Social & Behavioral Sciences, and offers more than 90 undergraduate and graduate degree and certificate programs.
13. Post University ($75,885)
Founded in 1890, Post University is a private, for-profit university in Waterbury, Connecticut, but its students now almost exclusively attend online.
Among the first in the U.S. to offer full degrees online, the university offers more than 25 undergraduate and graduate programs.
12. Columbia College Chicago ($75,662)
Columbia College Chicago is a private college specializing in arts and media disciplines and located in Chicago.
Popular majors at the mid-size institution include cinematography and video production, graphic design and music management.
Founded in 1911, Baker College is a private college with its primary campus in Owosso, Michigan.
The most popular majors at the college include business, nursing and healthcare management.
7. Johnson & Wales University-Providence ($73,301)
Johnson & Wales University is a private university with its main campus in Providence, Rhode Island.
The college is well-known for its culinary arts program and is believed to be the world's largest food service educator.
6. University of Arizona Global Campus / Ashford University ($72,310)
University of Arizona Global Campus, formerly Ashford University, is a public online university headquartered in San Diego, California.
Popular majors at the private college include business, early childhood education and psychology.
5. South University-Savannah Online ($71,777)
Founded in 1899, South University-Savannah Online is a private college in Georgia
The institution consists of its School of Pharmacy, College of Nursing and Public Health, College of Health Professions, College of Business, College of Theology and College of Arts and Sciences.
Academy of Art UniversityEstablished in 1929, the Academy of Art University is a private for-profit art school in San Francisco, California.
The most popular majors at the college include drafting and design, animation, video graphics and special effects, and computer graphics.
3. California Baptist University ($71,119)
Founded in 1950, California Baptist University is a private, Christian university in Riverside, California.
Students are attracted to the college for majors including business, nursing and psychology.
2. Savannah College of Art and Design ($68,870)
Savannah College of Art and Design is a private nonprofit art school with locations in Georgia and France.
The college's most popular majors include animation, video graphics and special effects, digital communication and media, and illustration.